Attaching a Comment to an Event
The Honor Level System gives you two ways to add comments to the entries in a student's record. First we will look at doing it from the Student Record window. And then we will see how they can be added at the same time you are Entering Infractions
Creating Comments at the Student Record
Bring up the
student record
as you normally would. You will find small icons in the last column. An icon that looks like this:

means that there is no note associated with this entry. If there is a note, the icon will look like this:

.
To create or edit a comment, click on the small icon at the end of an event's line.

The comment window will appear and you can enter text as you would for any note or comment. Click here to see how comments work.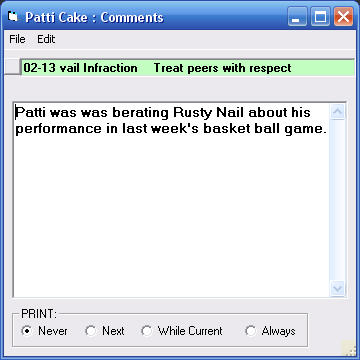 Creating Comments While You Enter Infractions
Enter Infractions
as you normally do. On this window you will see the same

icons. Click on one here and you can type in your notes as described above.

The same option is available when you Enter Minor Infractions. To enter notes on Direct Administrative Assignment, Parent Contact, or Bravo Point entries, follow the directions above for entering from the student record.
---