The Date To Be Served Options
Some schools want to provide students who are expected to report to detention more information on their detention slip. The Honor Level System allows you to turn on an optional tool that expands the options you have when printing these slips.

We call this the Date to be Served Options.



To use these options you must first turn them on in your Site Editor. Click the Options #2 tab at the top of the window.

Check the box as shown here on the right. And then close the site editor.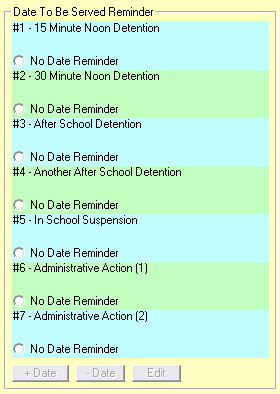 Now, on the main window, click the

button. You will see that the Print Task Manager window is now expanded to include this additional frame on the right.
Your own consequences will be shown. Use this frame to determine what additional text should be printed on slips.
Note: If you have been using the older HLS option of printing a special message on your detention slips, it will be disabled when you do this.
To add additional items to a detention slip, click the

in the lower left corner of the blue or green consequence segment. Then click the

button at the bottom of the frame.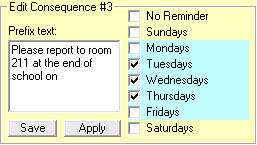 Enter any additional text you want printed on the slip in the white box on the left of the frame. If you check any of the day of the week boxes on the right, the date will appear at the end of your text.
If you want to add the text but not the date, enter it in the same box but leave

checked. If you want to include the date, check the appropriate day of the week boxes.
When you are finished you need to click either the

or the

button. The first will save these settings to be used every time your print the slips. The second will apply your changes only to the batch of slips you are printing at this time.

Once you have saved the settings you want for a consequence, they will appear each time you want to print the slips. In this example, we have an After School Detention that meets only on Tuesdays, Wednesdays, and Thursdays. If we are printing our slips on a Friday, we see that the next day for the detention will be on Tuesday.
You still have the option to nudge this date up or down before you print. Simply click the

in the lower left corner of the blue or green consequence segment and click either
or

repeatedly until you get the date you want. Click

when you are ready.
---