Using the Site Editor
The Site Editor provides you access to a multitude of tools that will let you make your Honor Level System unique to your school.



Begin your access to these site editing tools by clicking on the

button on the first window and then click as shown here on the right.

The Site Editor window is manipulated with the tabs at the top. It first opens to this white form with some clues to where you will find what you want to change. The four option cards are indexed here. Clicking on the list will not do anything, you need to click the appropriate tab at the top.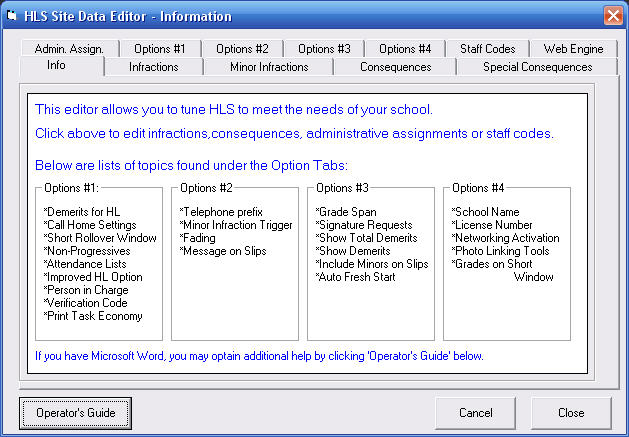 We will take a quick look at each of the tabs on this window and offer a short overview of them. You can
click on the tab images below
to see more detailed information about each one.
---

---

Include amoung the many options you can tweak and tune on this card are:

---

Options that you ajust on this card include:

---

This is where you can set or change the following items:

---

Here you can set the following features:

Set your school name.
Enter your software license number
Activate Full Networking
Activate the Photos option.
Indicate grade levels that you want automatically placed on your short window.

---

Here you can correct or delete staff codes. You can reassign entries of new staff codes, change the name of a teacher that gets married, etc.

---

---

This tab will give you another look at the white introduction window that you see above.

---

Go here to add new infractions, change the number of demerits or change their text.

---

Go here to add new minor infractions, change the number of demerits or change their text.

---

---

---